Soccer
Our experiences and excellent contacts with scouts, soccerclubs, playeragents and officials enable us to provide our services to soccerplayers.

We accompany the players careers within different divisions. Our priority are Divisions 1-3. We take the player to the next level.

The Soccer Division collaborates with the lawyers: Christoph Landau & Thomas B. Beyer, Voedestr. 45/47, 44866 Bochum-Wattenscheid, Germany.
We are interested in Soccer Players: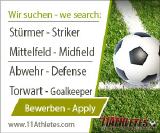 We are interested in working with Soccer Talents and pro Soccer Players.

Our partners are linked to many board/managements of top soccer clubs, which makes it more easy for us to determine the demand on one hand and on the other hand this fact increases the chance of successful transfers.

The start of our work will be the evaluation of the players skills, his goals and a written mandate. To get the basic infos please use the form on our 11Athletes Sportsmanagement Website.
We offer soccer players to clubs:
Playersagents Network - Spielervermittler Netzwerk